Are you less & less tempted to eat junk or ANYTHING processed after listening to my sister's recent podcasts with the gut health experts talking about how that impacts our ability to absorb nutrients and ability to lose fat?
All the talk of processed foods & foods that essentially turn to sugar, fueling the bad bacteria in your gut making us more susceptible to bloating, fatigue, brain fog, insomnia, disease, cancer and making our bodies more prone to holding onto unecessary FAT.. ughh
Definitely makes it easier to want to eat healthier, right ?!
Anyway.. I'm never perfect but always trying to fight that urge to just order pizza & eat chocolate
. I mean ..once in a while ...FOR SURE
This was Tempeh, sliced sweet potatoes w/cinnamon, avocado, & baba ganoush! Baba Ganoush is very similar tasting to hummus. I just sliced the tempeh & put in the pan with olive oil (I usually prefer coconut oil & Braggs liquid aminos instead of low sodium soy but couldn't find it since renovating our kitchen).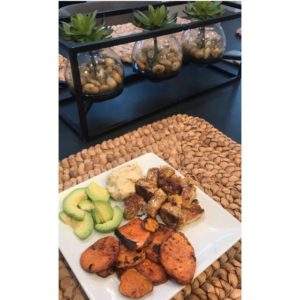 http://www.jenellesummers.com/wp-content/uploads/Gut-Health-1.jpg
640
640
Jenelle Summers
http://www.jenellesummers.com/wp-content/uploads/jenelle-summers-300x87.png
Jenelle Summers
2017-07-02 10:38:51
2017-07-02 10:38:51
Gut Health